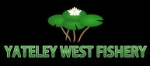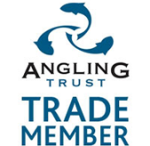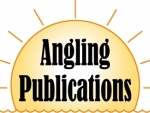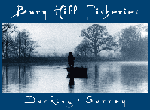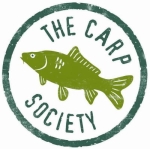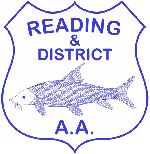 17th Stoney and Friends
Yateley Fish-in
When CEMEX decided to sell off Yateley, the site was broken up and purchased by three different entities it was not clear whether this would be the end of the Stoney and Friends Fish-ins on Yateley that had taken place there for the previous 16 years and had raised huge amounts for Macmillan Cancer Support.
However, shortly after Martin Gardener purchased the Pads, North, Car Park and Split Lake to form the new Yateley West Fishery, he advised Allan Stone that he was prepared to donate these lakes to ensure the survival of the event. This was an extremely generous gesture and appreciated by all involved in Stoney and Friends.
Having only four lakes as opposed to 13 on previous events clearly meant demand was going to outweigh supply especially in view of the lakes in question, and no sooner was the event confirmed and advertised, the places were filled with nearly all places going to anglers that had supported the event for years. With all the lakes contained on one complex, and a fewer number of anglers attending, it was possible for us to organise an earlier start than previous years and in this respect the gates opened at 05.00 on Friday 9th August with fishing to commence at 07.00.
Friday
As expected 90% of anglers were through the gates at 05.00 or shortly after with the other 10% happily making their way to the café in Yateley for a 07.30 breakfast having not properly read their introduction pack!
On arrival, all anglers were instructed to bring their landing nets, weigh slings, unhooking mats and stink bags to the registration tent to ensure they were bone dry and to have these items marked as checked. They were then given their bag of final instructions which also included any brochures etc sponsors had supplied us with. In addition they were given a further Fox goodie bag which was not only unexpected by them but fully appreciated by all.
All anglers present at 06.45 had viewed their lakes, decided on their ideal swim and with no conflicts on swim choice, were able to walk off and commence their fishing. It seemed everything had gone so smoothly and the event "management" were just sitting down to a well deserved cup of tea when Martin Gardener came running down the track from the North Lake car park to advise a tree had fallen and blocked it. He was already running late for a family commitment so after photographing it for evidence of his lateness the tree was duly cut/dragged down and moved out of harms way – thanks to all that helped with this.
In previous years "sponsorship" money had always been collected at registration but it was decided with fewer numbers this year to do this by walking round the bank on Friday. This was a far more civilised way of doing things and enabled the "management" to chat with everyone in a more relaxed manner.
The collection of Sponsorship on the Split Lake coincided with Lance Andrews-Mason hooking the first decent fish of the weekend as this occurred just as we were walking into his swim. I'm not sure he appreciated the gallery of viewers and the clicking of cameras but he held his cool to land a Catfish of 37lb.
About three to four hours after commencing the sponsorship walk around, the "management" returned to HQ ready for our resident chef's evening meal and appraisal of the first day of the new event. All agreed it had gone exceptionally well and the smaller numbers made the event more sociable and intimate. A number of anglers and syndicate members also rallied at the Yateley West B-B Q for a social which seemed to be well appreciated by all in attendance.
Saturday
Saturday dawned and following breakfast it was time for site walk again, this time selling raffle tickets on route. As always this is the time to also gauge how the anglers were doing and what was being caught.
Starting at the Car Park Lake it was clear a number of Tench had been caught in the unofficial "Gardner Tackle Employee Tench Challenge – Martin "Smarts" Lewis leading Mike Lyddon 3-1. Mike, not wanting to be out done over the weekend sneaked home to get "HMS Cheating Git". The first report of anything other than a Tench came from the North Lake where Mark Beagley had caught a 24lb10oz Carp.
It soon became apparent however that the Split Lake was the lake to be on. The event had obviously coincided with the Catfish going on a munch. James Frankland, a syndicate member who was fishing the weekend along with two friends had between them had a number of Catfish out ranging from 22lb up to 58lbs. On the Pads Lake nothing had been caught despite the Carp showing themselves to everybody present. The main purpose of the walk round though had been to sell raffle tickets. Without exception everyone dug deep in their pockets and we returned to HQ with nearly £1500 of tickets sold – an average of £25 per angler!!
Sunday
Sunday started early with Mark "Jarvy" Jarvis appearing live on Keith Arthurs Fisherman's Blues Talk Sport radio programme at 07.15 where he gave a summary of the event so far, the fish caught and a rough idea of the money raised to date.
Anglers then slowly descended on the Car Park though-out the morning and details of fish caught started to filter in.
Joel Pritchard had caught the only Carp of the Pads at 13lb.
Darren Sartin had caught a 33lb Carp off the North Lake (unfortunately no photo's yet), James Frankland and friends had had a few more Catfish from the Split, and then the largest fish of the event was reported.
Steve Hall and his son Frank had a 70lb Catfish from the Split Lake along with a 38lb one. Unfortunately Frank was a heavy sleeper so Steve had most of the fight but did share it with Frank when he eventually pulled himself out of the bag.
The "management" spent most of Sunday morning sorting out the raffle prizes – even in the current economic climate it the generosity of the angling trade and individuals in donating prizes never ceases to amaze us and is unreservedly appreciated (list of sponsors is attached at the end – please support them like they support us).
With 13.00 hours approaching all the anglers started to gather around the "raffle" tent. On seeing a new book of raffle tickets in a different colour being sold, quite a few dug deep and purchased yet more tickets taking the raffle money alone to nearer £2000 – an amazing amount from so few. Mark "Jarvy" Jarvis started the proceedings by thanking all who attended, their sponsors, the trade sponsors of Stoney and Friends, Martin Gardener for so generously donating the waters and obviously Allan Stone himself for yet again organising a brilliant event.
Jarvy then went on to announce the individuals who had raised the most money and award them with prizes for their efforts. In joint forth place was Derroll Nunn and Iain Marpole (Iain unfortunately wasn't present as he has an infliction which makes him have to watch all Man U games J), third place was Ricky Craig, second place Lance Andrews-Mason and in first place although unfortunately unable to attend was Tim Paisley.
Whilst prizes are given to the raisers of the highest amount we would like to thank everybody for their efforts as every penny counts and the overall amount raised was amazing.
In conclusion Jarvy advised that the event had raised approximately £8500 (on a per person basis one of the most successful Yateley events ever) with some more money known to be coming in. Furthermore that amount, added to the running total from all Stoney and Friends events meant that to date Stoney and Friends have raised at least £443,000 for Macmillan Cancer Support.
In that respect everyone involved in Stoney and Friends would like to give their heartfelt thanks to everyone who has attended or supported our events over the years and long may we continue to raise money and have fun along the way.
It was then on to the raffle when everyone was eager to see if there number came out of the bucket.
With so many prizes, the raffle is not a short lived affair, and many people were fortunate to walk away with a prize or two – obviously not everyone can win and hopefully the tears have dried up in Deano's eyes by the time he reads this.
The event was a resounding success in every way, fish caught, money raised, respect for the waters and new owner, and general camaraderie – THANK YOU
Stoney & Friends
Yateley West 2013
Our Sponsors for this event are:
Yateley West Fishery. Yateley Angling Centre. Gold Label Tackle.
Gardner Tackle. CC Moore. Fox International. ESP/Drennan
JAG Products. Sticky Baits. Dynamite Bait. Richworth. Spomb.
Nat West. Bury Hill Fisheries. Bait-Tech. Korda. Rigmarole Shimano.
Cherpont Lake. Murphy's Lake. Etang Cache. Solar Tackle. Maver.
Thinking Anglers. Carp Zone Nash Tackle. ukmatchangler.com.
The Tackle Box. Hinders. Angling Publications.
Enterprise Tackle. Will Barnard & Thames Water. MCF Developments.
Shaun "Tincataylor" Taylor. The Tackle Shop. Llanthomas Fishery.
Simon Hanson Vince Scully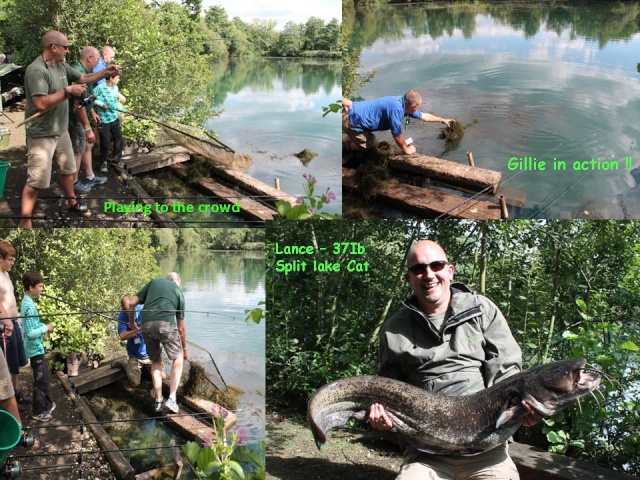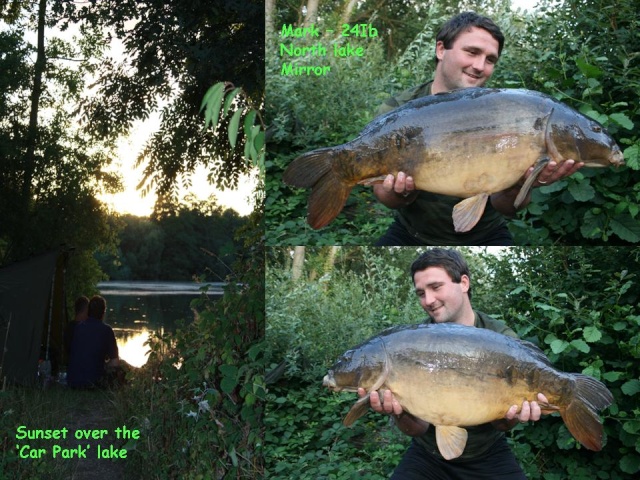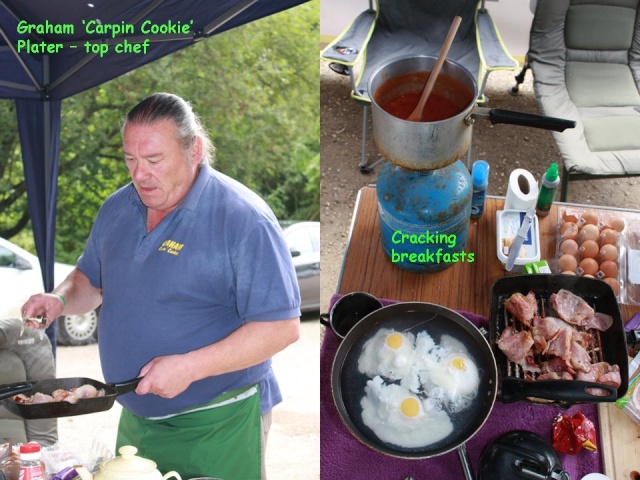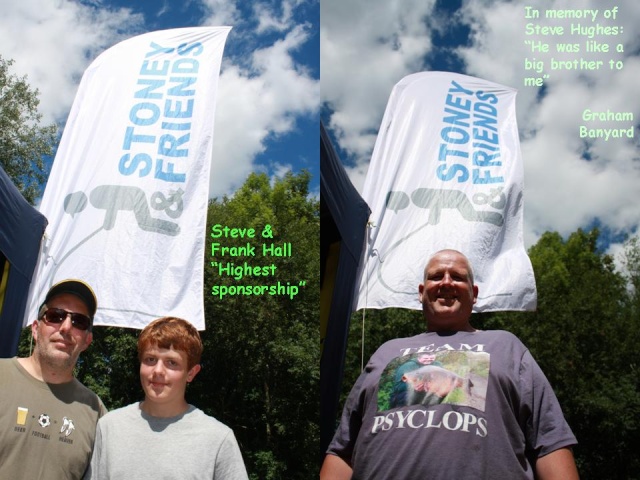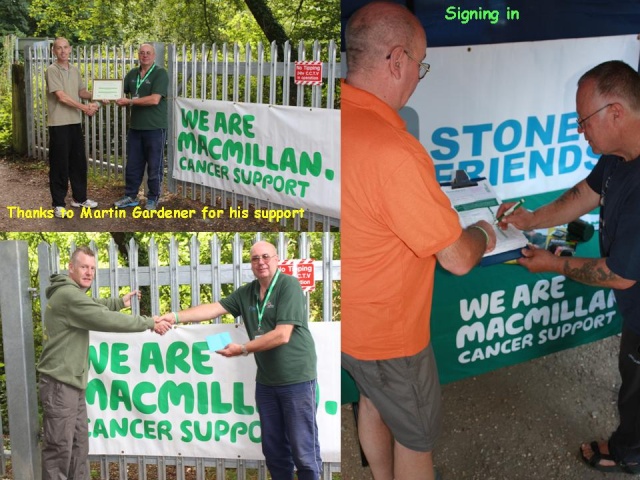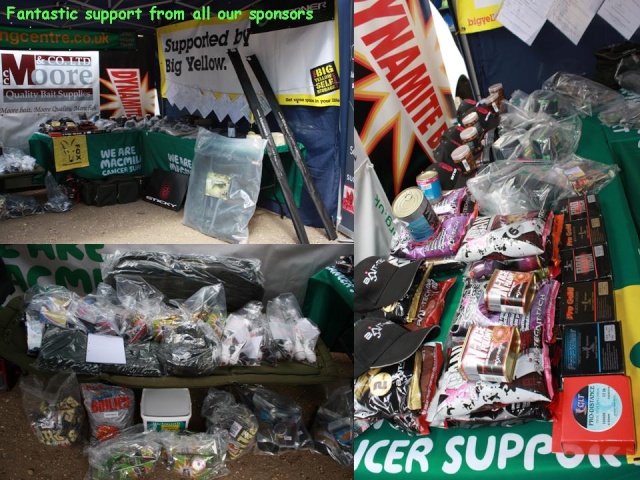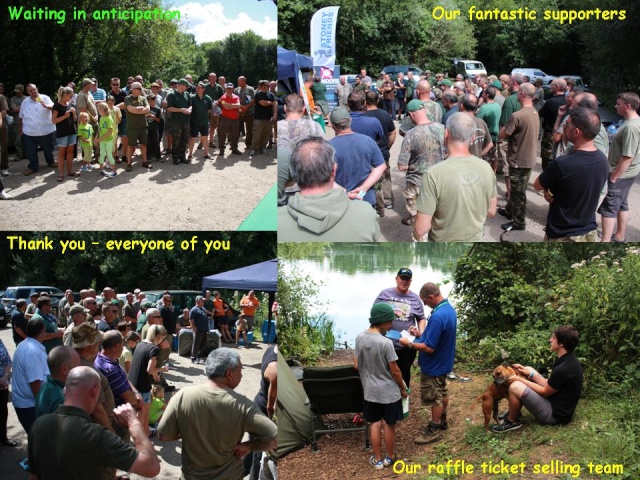 _________________
No Bombing, No Diving and No Heavy Petting
Admin




Posts

: 79


Join date

: 2012-08-02



---
Permissions in this forum:
You
cannot
reply to topics in this forum