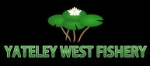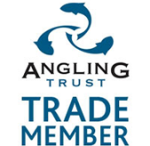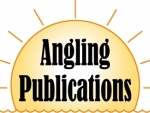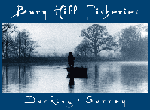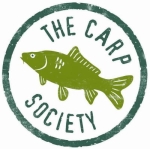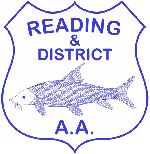 THE BOYS CARP.
Many years ago, when I was a young boy, living in Hornsey, north London, all my fishing was done at Highgate ponds.
Such happy, carefree days, unlike now.
Every Saturday and Sunday morning and holidays, [summer time] a 15 min walk to the bus stop, and wait for the first early bus to Highgate, a short trip on a no 210.
Getting off at Highgate village, into south grove, down Highgate west hill, right into Merton lane, Getting excited, and at the bottom, the lakes, and a fantastic place to roam, free and safe.
The model boating, the ladies swimming, the men's swimming, the nearest three of 12 ponds in the area. all looking good in the early morning light.
These lakes were/are formed by the old river fleet, and it flowed on into the Thames nr. fleet street.
I liked fishing the one on the right, the ladies bathing, as it was very natural, fishing from the path side only, [now has a high metal fence, no fishing].
My fishing gear was simple, a ex.army back pack, with floats, leads, hooks, my rod, home made from a wartime tanks copper aerial, white porcelain line guides, fixed on with mums black cotton, and then her nail varnish, and the butt cork rings stuck on with glue.
My reel was a cheap, brown bakelite one, with 25yds of nylon, like most wartime kids we made do.
The method of fishing was very simple, a lead at the end of the line two loops 12" apart, and a self tied hook to nylon.
On one hook, paste and the other a worm.
To cast, the line was carefully pulled off the reel and laid on the ground, then cast out, [oh the tangles]
Two rod rests, and the bobbin, either paste or a silver milk bottle top.
We sat on the ground and waited, and chatted about the great event in our young lives, the war, being bombed out, evacuated, bomb sites, shrapnel collecting, doodle bugs, spitfires, barrage balloons in finsbury park, ack-ack guns in the streets, etc. for kids a very exciting time.
our Food and drink, was sandwiches and lemonade, sweets.
In those days, sheep grazed there, and it was safe.
It was a kids paradise.
The fish we caught were bream, roach, perch, gudgeon, and the fun lasted all day, sometimes when cash was short, we walked home. [later a bike was a prized possession].
One day I decided to fish the mens swimming and as I walked the path between the two ponds to my amazement, there right in the edge were two huge fish, told later they were carp, [hardly ever seen then or known about], so backing off I hurriedly got my rod set up, all of a tremble, put a very large piece of bread on the hook crept back, and just lowered it onto the carp.
Two massive lips sucked in the bread and hook, I struck, and both carp bolted towards the middle of the lake, stripping line off my reel.
My tank aerial rod bent, and I decided to stop it as my line was running out.
PING, the line parted, and away went the carp, and I felt most disappointed.
And that was my first carp.
I was aged 10, it was 1946 but still remember it to this day.
I have been back to that spot many times, even fished there, as family live nearby, and local carpers catch there, the biggest about 35lb.
The good old days.




Posts

: 274


Join date

: 2012-08-14


Location

: HERTFORD-CHESHUNT-LOCAL LAKES



My first fish was on a tank aerial. It was caught in the river Tone when trout fishing, but it was a really ugly fish and no one had a clue what it was. That rod went on to catch several trout and carp before being sold for 5 bob (25p).



Posts

: 66


Join date

: 2012-10-02


Age

: 67


Location

: Totton, Hants



I caught my first carp on a potato in a small pond in '86, and I think it was about 10 pounds. I was 10 years old, and it appeared to me like the biggest fish in the world. Glorious days



Posts

: 1


Join date

: 2013-04-04


Location

: Lollum, Netherlands



---
Permissions in this forum:
You
cannot
reply to topics in this forum